Welcome to the new Cheddar Male Choir website. The website is similar to the previous version with a few changes. Navigating around the web pages click on the 3 horizontal lines on the top left of the page as in this picture.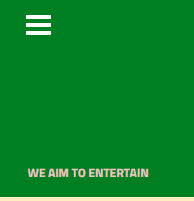 If you have any comments or want some changes to the website please let me know and I'll try to make the changes.
Below is the link to the conceret attendance spread sheet. Click on the highlighted link and fill in your ability to attend each concert or activity. To fill in the chart, look for your name and go along the horizontal axis clicking on each box in turn. When you click on a box say for the Wedmore concert by your name a small arrow appears on the right of the box, click on this arrow and you then have the two options either yes or no to attend. Click on your choice and repeat this for each concert or activity. Once you have completed your selection closing the program will automatically save the changes.
Attendees spreadsheet
. Click on the link (the underlined one to the left) to input your attendence at the various up and coming concerts.
If your not sure of how to do it watch the video, sorry about the sound quality but it's a bit rushed, I'll make a better job next time. Steve.